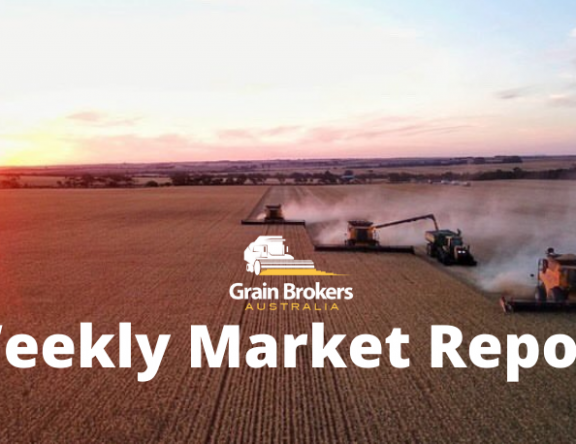 The 2022/23 crop year in Australia concluded at the end of September, and the final pieces of the season's record grain export program were revealed on Thursday of last week when the Australian Bureau of Statistics released the nation's September export data.
Concentrating on the four key commodities of wheat, barley, canola and sorghum, Australia's total exports for the twelve months came in at a record 47.81 million metric tonne, with barley the only one not setting a new seasonal export record. This is a massive 10.6 per cent higher than the previous record of 43.22MMT, set just a year earlier. In fact, the last three seasons have each set new export benchmarks, a result of three consecutive years of phenomenal La Nina assisted production in the "land down under". It also demonstrates the extraordinary increase in Australia's export capacity and logistics efficiency over those three seasons.
Western Australia was the biggest exporting state with 20.92MMT, or 43.8 per cent of the nation's grain shipments. The second busiest was South Australia, with 8.48MMT, or 17.7 per cent of the total. These two states collectively accounted for 61.5 per cent of Australia's export task despite neither being a producer, and therefore not an exporter, of sorghum. New South Wales came in third with 7.13MMT, 14.9 per cent of the total, just ahead of Victoria with 6.98MMT, 14.6 per cent of the export program. Queensland was in last place with 4.3MMT, 9 per cent of the task, with sorghum 48.4 per cent of that total and the state accounting for 74.1 per cent of all sorghum exports.
The port of Fremantle in Western Australia took the gong as the nation's busiest port, fobbing 8.95MMT of wheat, barley and canola for 18.73 per cent of the nation's total shipments. The second busiest port was Albany, also in Western Australia, with 3.84MMT (8.02 per cent of the total), followed by Port Adelaide in South Australia with 3.5MMT (7.31 per cent), Brisbane, Queensland's primary port, with 3.47MMT (7.25 per cent), Esperance in Western Australia with 3.44MMT (7.21 per cent) and Port Kembla in New South Wales with 3.23MMT (6.76 per cent).
March was the biggest export month of the 2022/23 season, with 5.43MMT of the four key commodities shipped from Australia's grain export facilities. This was followed by May with 4.85MMT, December with 4.68MMT, and February with 4.62MMT. The biggest wheat month was March with 3.76MMT, for barley it was February with 0.92MMT, for canola it was December with 0.88MMT, and for sorghum it was May with 0.44MMT.
Wheat is Australia's largest agricultural export commodity by volume and value, and in 2022/23 it made up 66.4 per cent of the total grain export program with a record 31.77MMT. This is 15.7 per cent higher than the previous season's record of 27.45MMT. The big difference came in the pace of exports in the first half of the export year, where 16.52MMT was shipped last season against 12.98MMT over the same period in the 2021/22 season.
China was the principal buyer of Australian wheat in 2022/23 with 7.59MMT, 23.9 per cent of total wheat exports, departing Australian shores for discharge at numerous ports in the world's biggest producer, consumer and importer of wheat. Indonesia was the second biggest buyer with 5.03MMT (15.83 per cent), followed by the Philippines with 3.08MMT (9.68 per cent), Vietnam with 2.85MMT (8.99 per cent) and South Korea with 2.7MMT (8.5 per cent).
Australian barley exports in 2022/23 came in at 7.08MMT, 14.8 per cent of total exports, but down 11.8 per cent from 8.03MMT in 2021/22, despite the late season boost from China after it dropped the import tariffs in early August. The decrease largely reflects the export margins available for barley over the past twelve months relative to both wheat and canola, which were competing for the same export elevation slots. Feed barley made up the bulk of the export program with 5.93MMT (83.73 per cent) compared to malting barley with 1.15MMT (16.27 per cent).
In the absence of Chinese demand for almost 11 months of the export season, Saudi Arabia retained its number one position with 1.83MMT or 25.82 per cent of total barley shipments. However, this was down significantly from the 3.18MMT they purchased in the previous season. Thailand was the second largest barley customer with 0.69MMT (9.16 per cent), followed by Vietnam with 0.61MMT (8.68 per cent). China surfaced with 0.43MMT (6.03 per cent) in just five weeks, with the first post-tariff shipment only departing Fremantle in the last week of August. Mexico has emerged as a key market for Australian malting barley in recent years, taking 0.39MMT (5.45 per cent) in 2022/23.
In the 2020/21 season, Australia produced a then-record canola crop of 4.3MMT. Two consecutive record production seasons later, total canola exports in 2022/23 reached a record 6.16MMT and made up 12.9 per cent of the national export program. This is up 11.8 per cent from 5.51MMT shipped in the prior corresponding period. Western Australia was the big mover, with exports increasing from 2.58MMT in 2021/22 to 3.42MMT last season, more than the nation's total export program back in the 2020/21 season.
The European Union remains the number one destination for Australian canola exports with 3.2MMT, 52 per cent of total shipments, going to ports in Belgium, France, Germany, the Netherlands and Portugal. Outside of the EU, Japan was the nation's biggest canola client, taking 0.89MMT (14.52 per cent), followed by Pakistan with 0.57MMT (9.26 per cent), Bangladesh with 0.24MMT (3.93 per cent) and Mexico with 0.23MMT (3.76 per cent).
Sorghum enjoyed a bumper export program in the last seven months of the season following a huge harvest earlier this year. Total exports of 2.81MMT may only make up 5.9 per cent of the major grains export program, but that is up 25.9 per cent year-on-year from 2.23MMT in the prior corresponding period.
Sorghum demand is dominated by China, taking 2.43MMT, or 86.46 per cent of the Australian bulk and container export program in 2022/23. This is up from 1.89MMT in 2021/22 but is proportionally very similar. The only other destination of note in 2022/23 was Japan with 0.2MMT (7.14 per cent), down fractionally season-on-season. Kenya and Sudan were the only other bulk customers. Sorghum exports have a relatively large container component at around 11 per cent of the 2022/23 program, with Sydney the main loadport and China the dominant destination.
The 2022/23 export record could easily have been much higher if not for a substantial slowdown in the pace of exports out of Queensland and New South Wales ports in the final three months of the season. The talk of El Nino at planting time back in the autumn slowly played out, particularly in central and northern New South Wales and southern Queensland. These regions generally feed Australia's biggest domestic feed grain demand region, the Darling Downs in southern Queensland, as well as supplying a significant proportion of the east coast's milling wheat demand, and the domestic market worked as it should to limit grain shipments by pushing values above export parity.
Call your local Grain Brokers Australia representative on 1300 946 544 to discuss your grain marketing needs.