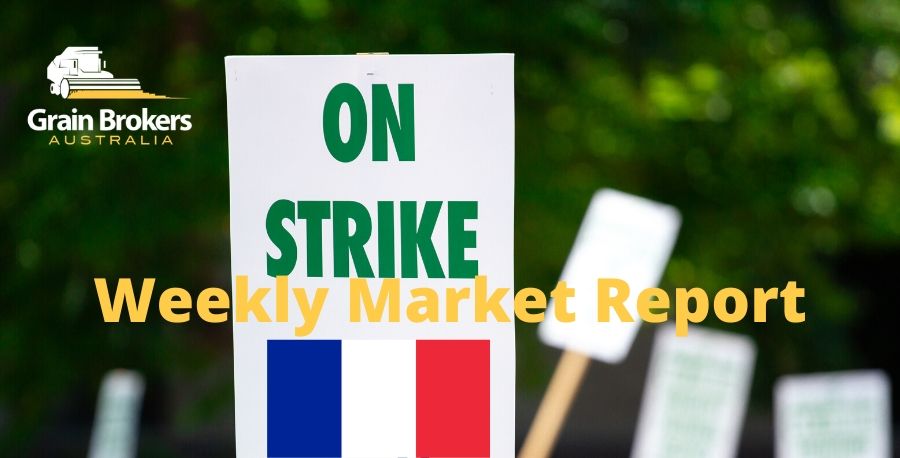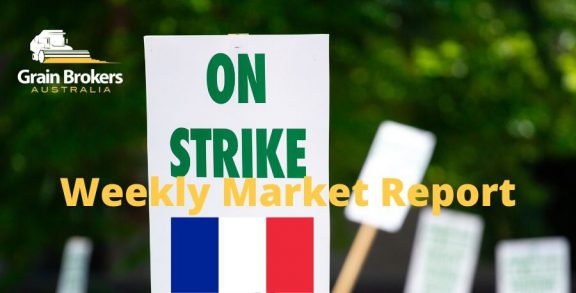 Ongoing strikes in France over pension reform are disrupting the country's rail services and port activities, and have the potential to severely impact the grains sector if a quick resolution is not found to the dispute that has now been running for almost eight weeks.
Like so many countries in the developed world, France is wrestling with how to fund its relatively generous pension schemes amidst falling birth rates and an ageing workforce. The country's hard-left trade unions are trying to force President Emmanuel Macron to abandon the biggest overhaul to the French pension system since World War II.
France has 42 different pension schemes, each with varying levels of contributions and benefits, and Macron wants to streamline them into a single system that gives every pensioner the same rights for each euro contributed.
At just under 14% of economic output, French spending on public pensions is among the highest in the world, a vital component of an expensive but treasured welfare state. The government says the new system would reduce billions in future deficits in pension funds.
The public transport strike that has stymied rail freight services and a series of rolling stoppages by stevedores have left merchants struggling to get wheat and barley to port for export and to domestic consumers across the country.
According to the French grain organisation Intercereales, the situation is now getting quite drastic. There are more than 450,000 metric tonnes of grain, worth around 100 million euros (AU$166 million), blocked in French ports, unable to be loaded onto export vessels that are lined up at anchorage off the French coast.
The strikes are paralysing this season's grain marketing campaign in the European Union's biggest grain producer. The big concern now is that merchants will be forced into loading optional origin sales via alternate export pathways out of competing countries to meet their contractual obligations.
Additionally, buyers are reported to be switching purchases to other exporting regions such as northern Europe, Baltic countries, the Black Sea, the United States or Canada to avoid the possibility of getting squeezed on delivery due to inadequate logistics. This was evident in the latest Egyptian tender, where there was only one French offer, and all the business went to Black Sea exporters.
France harvested 39.5 million metric tonne (MT) of soft wheat this season (July 2019 to June 2020) it's second-largest crop on record, and up 16 per cent on the drought reduced 2018/19 crop. Before the strikes, current season exports outside of the European Union were estimated to reach more than 12MT, a four year high and up 14 per cent on 2018/19.
The grain industry in France is extremely reliant on rail freight to execute the massive grain transport task from interior storages and railheads to ports around the country each season. It is estimated that road freight costs an additional 4 and 6 euros per tonne depending on the distance to port, effectively reducing France's competitiveness in the global marketplace.
That said, French 11.5 per cent protein wheat is quoted at US$224 Free on Board (FOB) for a February loader, maintaining its discount to Black Sea values which closed last week quoted at US$229 FOB.
German and Baltic export premiums have been strengthening against French wheat values as domestic merchants and exporters look for alternate European Union supplies in the wake of the French crisis. They closed the week quoted at around US$228 and US$227 respectively for 12.5 per cent protein wheat. If you call the 11.5 per cent protein discount $3, they remain quite competitive and provide a cheap means of avoiding the French system.
All this comes at a time when French exporters were hoping to rebuild their export clientele after a poor production year in 2018/19 reduced the exportable surplus, forcing traditional wheat customers to other origins. France had a rare shipment of wheat to China at the beginning of the season, and traders are hopeful French wheat will regain market share in West Africa and catch extra demand from Morocco, which had a poor harvest.
On the barley front, France harvested a record 13.6MMT off 1.9 million hectares in the current season. This was up 2.5MMT or 22 per cent compared to 2018/19 and restores quite a healthy exportable surplus.
In terms of quoted export values, French barley remains extremely competitive. It closed last week at around US$191 FOB compared to Black Sea replacement at around $192 FOB and German at around US$195 FOB.
The latest Saudi tender results will be out early this week, and at those values, it is hard to see exporters shorting French execution with the current industrial turmoil. German barley is more expensive and has a freight disadvantage, so it is highly likely the business will go to Black Sea nations unless the Argentinians decide to pop their head in for a look.
Major reform is always difficult in politics, especially when it potentially affects the majority of the country's constituents. The unions in France hold a lot of power and finding a resolution could be drawn out.
We also know how militant the French farmers can be when they are riled. It will be fascinating to see what action they take and what influence It has when the strikes start to materially affect their farm income and profitability.