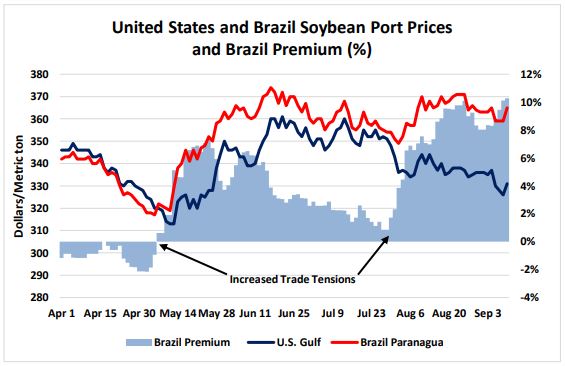 News that a Chinese trade delegation had cancelled this week's planned visit to farms in the states of Montana and Nebraska has put a dampener on the upcoming US-China trade negotiations. The delegation reportedly headed back to Beijing earlier than scheduled after mid-level talks wound up in Washington late last week.
The delegation was involved in preliminary trade talks with US officials to find a resolution to the ongoing trade war (Don's Party) ahead of cabinet-level negotiations which are scheduled to take place in Washington in October. Their early departure has raised doubts about a possible breakthrough and sent US soybean futures more than 1 per cent lower in Friday's trade.
High hopes were set for last week's trade talks in Washington, which came after both sides softened trade tensions earlier this month with gestures such as tariff exemptions and delays. China purchased 600,000 metric tonne of US soybeans the previous week and said it would exempt American pork and soybeans from additional tariffs, taking effect this month, as a sign of goodwill heading into the talks.
The plan for the farm visit was only announced a few days earlier and the sudden change of plans appears to have come on the back of comments from US President Donald Trump (The Don) saying that he wanted a complete trade deal with the Asian nation, not just an agreement from China to buy more agricultural goods from the United States.
But both sides moved quickly over the weekend to indicate that the negotiations will continue, and that high level talks pencilled in for October would still proceed. The two countries agreed to keep communicating on related issues and discuss the details of the next round of trade talks.
Negotiators on both sides have continued to look for an avenue to resolve their differences as tensions ratcheted up a notch or two over the northern summer. Both the US and China want to see a resolution to the long running dispute, particularly with the United States heading into elections in 2020.
However, plentiful global grain supplies and declining Chinese demand has dulled their appetite for imports. Overall feed grain demand in China is expected to decline amid substantially lower domestic swine inventories due to the continuing African Swine Flu epidemic.
It seems that the biggest hurdle facing negotiators on both sides may be agreeing on the scale and ambition of any deal they try to formalise. China wants to agree on a partial deal that would head off Washington's planned tariff increases on Chinese imports in October. 'The Don' clearly wants a far more comprehensive deal.
US soybean exports have been the hardest hit by Trump's brinkmanship and the Brazilian farmer has been the biggest beneficiary. One of the best barometers of the degree of tension surrounding US-China trade negotiations this year has been port price premiums paid for Brazilian soybeans over US soybeans. When the tensions escalate, premiums develop at the Brazilian port of Paranagua over US Gulf ports. Similarly, when tensions diminish the premiums slowly fade.
These price premiums have risen and fallen within the context of global price movements that have centred on the progress of the 2019 US crop. Prices rose in both Brazil and the US as the early season wet conditions hindered corn and soybean planting in the US and high water levels in the Mississippi River raised the cost of moving old crop soybeans to US Gulf ports. As conditions have improved over the past couple of months, prices of both Brazilian and US soybeans have trended lower.
The rise and fall of the Brazilian export premium correlates directly with the rise and fall of trade tensions. In May this year, the US announced plans to raise tariffs on $200 billion of Chinese products from 10 to 25 per cent. Brazilian soybeans moved to a 7 per cent premium over US soybeans as a result. The premium gradually fell back to around 1 per cent by late July. However, a new round of tariff hikes that took effect on September 1 pushed Brazilian premiums up again to almost 10 per cent.
The concern for Australia is that any deepening of the trade impasse will potentially weaken an already vulnerable Australian economy. The trade crisis comes amid a weakened domestic housing market and stifled economic growth. The health of the Australian and Chinese economies is intricately linked. Our agricultural exports, mining exports, tourism exports and education exports all depend heavily on China.
As Don's Party rolls on endlessly, China is beginning to admit its traditionally high rates of growth are in jeopardy. And the latest numbers tell the story. Industrial production growth fell to 4.4 per cent in August, its lowest in 17 years. Growth in retail sales also fell last month to 7.5 per cent. A lofty number by Australian standards but much lower than the 10 per cent growth consistently seen over the last ten years.
Beijing is now saying that it will be very difficult to grow at 6 per cent this year, well below the numbers seen in the years since the global financial crisis. If Chinese growth continues to decline it will undoubtedly be reflected in demand for Australian goods and will have countless flow on effects across the domestic economy.
The best result for all concerned, including Australia, would be a swift resolution to the standoff. No doubt this is front of mind for Prime Minister Scott Morrison as he tours the United States and meets with The Don.
Call your local Grain Brokers Australia representative on 1300 946 544 to discuss your grain marketing needs.