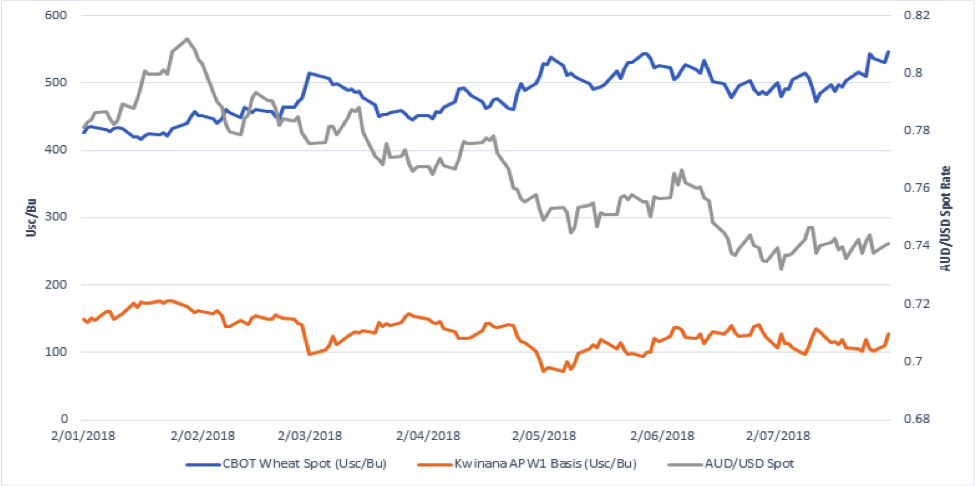 2017/18 Grain95 program generates a final average return of $20.65 per tonne
Performance of Local Grain Markets in 2018
Grain prices rebounded in late January and continued to rally through the first half of 2018. The basis and depreciation of AUD/USD spot rate have been responsible for the improvement in cash price based on the failed crops on the East Coast, and the requirement for supply replenishment of grain into the drought-ravaged regions through VIC, NSW and QLD. Futures in the first half of the year have been characterised by downward volatility stemming from the Chinese US-led tariff trade wars. The diminished size of the Black Sea crops plus dry weather across the US plains contributed to upside volatility of futures. The program capitalised on the swings in futures with call strategies until late June 2018.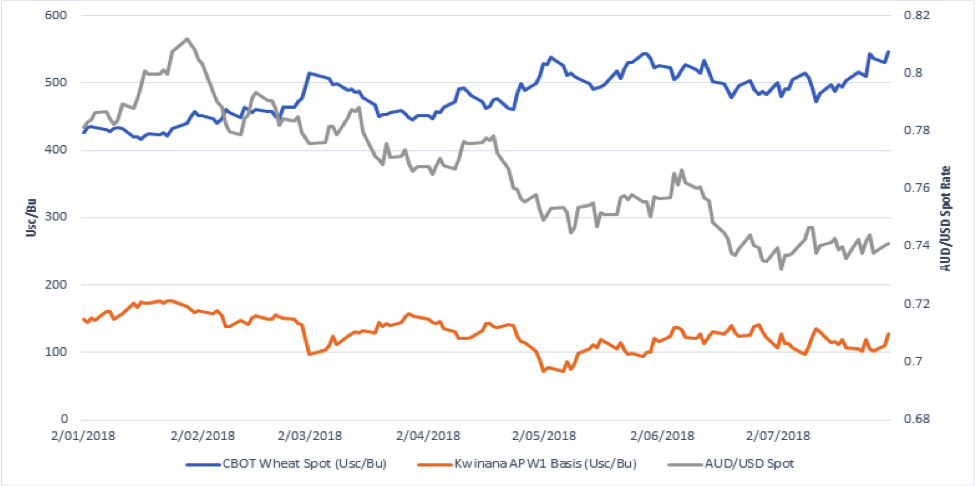 Grain95 As A 2018/19 Marketing Strategy
Both the 15/16 and 16/17 and 17/18 Grain95 programs performed strongly in comparison to local cash and pool markets and we will again be offering the program in 2018/19. We view Grain95 as one of many grain marketing options, is a proven strategy to diversify your portfolio, and should again be considered if you are looking to protect a minimum price while remaining exposed to potential upside in futures. However, this is not a product whereby you should market a large proportion (over 20%) of your grain and should be used in conjunction with other marketing strategies.
Grain Brokers Australia Marketing Products
Grain Brokers Australia has a range of products along with Grain95 that may be beneficial to your marketing program;
GrainAdvance is a cash advance product for wheat, barley, canola and lupins that pays 70% of grain value during harvest but allows you to sell at a later point in time up until September 30. This strategy allows you to receive harvest cash-flow but remain 100% unsold to capitalise on potential rallies in local markets. GrainAdvance proved to be the strongest marketing strategy this year.
GrainFlexi is a product recently offered that allowed contracting of wheat with the option of delivering either this year or next. Our flexi-season contract helps limit wash-out risk if production is not met during harvest, but can also allow you to take advantage of forward pricing by contracting again at harvest if values are higher.
How Grain95 Works
Grain Brokers Australia remit you 95% of the best brokered price on the day. The remaining 5% of the value is invested in Chicago derivatives providing the opportunity to capitalise on any upsides in grain markets.
Find out more
At Grain Brokers Australia we offer a diverse portfolio of grain marketing solutions that give you the opportunity to capitalise on market movements.
If you have further questions about our 2017/18 Grain95 program or wish to participate in one of our programs this upcoming season, please contact Matt Tolmachoff on 0418 790 042 or Sarah Woolford on 0455 111 779.